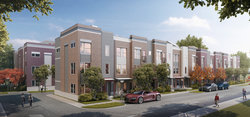 A local condominium developer is buying property near the old Milano Inn restaurant in the Fletcher Place neighborhood with plans to build a $9.5 million residential project.
Onyx+East has received approval from the city's Metropolitan Development Commission to demolish two buildings at 777 Bates St., between South College Avenue and Interstate 65, to construct 35 town houses.
Onyx is purchasing the one-acre site from a local investment ownership group called 777 Partners LLP, a part...